Emily Crandall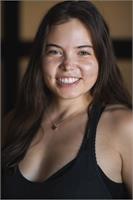 I started practicing yoga during the end of my high school years and then all through college. I completed the MI Yoga Room Teacher Training program in 2014 and have been teaching ever since. I teach first from my own experience as a yoga student and aim to create an inclusive environment for all body types and all ages of students. I love the combination of breath, movement, heat and music, and work to cultivate my classes into being an enjoyable experience.My yoga practice and the MI Yoga Room community hold significant spots dear to my heart and I love being able to implement through teaching what has been so life changing for myself.
Emily Crandall instructs the following:
Guided Vinyasa - cultivate a powerful & healing breath to lead you through an invigorating flow of cleansing, opening and empowering postures. A surefire way to light up your life.




Vinyasa for those wanting to experience a physically slower paced class. Yoga Flow will focus on working at a methodical pace. We will be holding postures, focusing on our breath, and at the same time creating a supple and toned body. Great place for beginners




Yoga Flow is designed to develop and increase your breath and focus, use this to create just the right amount of heat and then allow the heat to release any tension from you in perfectly selected yin style poses.




A dynamic series of sequenced postures that flow together designed to build great internal heat in order to purify the body with physically demanding postures done at the measure of your own breath.