Candice Lamarand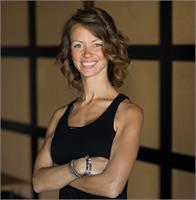 I have always loved yoga from the first time it came into my life in high school. Yoga was something I occasionally did here and there for fun, usually with a friend. Once I started practicing on a regular schedule a few years ago I noticed all of the benefits from it and I always encouraged others to come with me to class. I really loved introducing yoga to others and I enjoyed seeing them grow stronger (physically and mentally) as they continued their practice. At one point I challenged myself to go to all different studios, take every kind of class I could find, and really dig deeper into yoga itself. I ended up in the parking lot of Plymouth yoga room one day and remembered someone had recommended their teacher training program. I looked up their dates, saw that I was available and gave them a call. I went in to teacher training for myself. Signing up for something by myself at a place I had never been was a challenge in itself and one I will always be thankful for. I thought maybe I could eventually teach one day down the road, maybe a pre retirement plan…but I never could have imagined how much I would fall in love with teaching, so when my training was done I started teaching. Nothing could have prepared me for the joy I feel when I teach and the cycle of inspiration that comes from it. I love giving others the opportunity to challenge themselves and to see their excitement that comes when they surprise themselves. I am grateful for this journey, the chance to teach others, but most importantly grateful for all that my students and fellow yogis teach me.
Namaste.
Candice Lamarand instructs the following:
Guided Vinyasa - cultivate a powerful & healing breath to lead you through an invigorating flow of cleansing, opening and empowering postures. A surefire way to light up your life.




Vinyasa for those wanting to experience a physically slower paced class. Yoga Flow will focus on working at a methodical pace. We will be holding postures, focusing on our breath, and at the same time creating a supple and toned body. Great place for beginners




Come explore yin yoga poses with Thai massage adjustments in this relaxing, yet revitalizing workshop at the Plymouth Yoga Room.

Saturday, November 17th

12:30 - 2:00 pm

$25.00 per person




Join the awesome energy and people of the Plymouth Yoga Room community to kick off the holiday season! Enjoy a pre-meal detox through a fun, balanced flow. We will lead you through cleansing twists and dynamic openings, and create a powerful breath to carry with you into the day as you gather with family and friends.