Nicole Yoder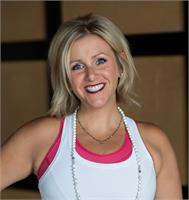 Nicole Yoder has been part of the Plymouth and Northville Yoga Rooms since 2015. She's been teaching various forms of fitness since she was
18, her first aerobics class being when she was in 3rd grade after school with her mom and a bunch of other teachers. She received her yoga certification in 2006 and began teaching, having come to the realization that through her yoga practice and teachings,
she could actually live the life she's always wanted - and that's what she works toward each and everyday.
Nicole once worked in automotive, has managed various fitness
studios, planned and executed big events, yada, yada and has a pretty strong resume, but her best work is her family, the day-to-day, her time dedicated to yoga, and the surroundings she keeps. Having renewed and updated her certification in 2017, Nicole continues
to help others deepen their practice. Nicole's teachings are guided by her desire to share with others, easy, relatable ways to look at ups, downs, challenges, and life in general through their time on their mat. She has a life-long dedication and ability to connect with others through her experiences and situations in a way that incorporates humor, love, laughter, intention and breath. Married with a little girl and 2 dogs, Nicole and her family live in Northville, Michigan.
Nicole Yoder instructs the following:
Vinyasa for those wanting to experience a physically slower paced class. Yoga Flow will focus on working at a methodical pace. We will be holding postures, focusing on our breath, and at the same time creating a supple and toned body. Great place for beginners




A dynamic series of sequenced postures that flow together designed to build great internal heat in order to purify the body with physically demanding postures done at the measure of your own breath.




Guided Vinyasa - cultivate a powerful & healing breath to lead you through an invigorating flow of cleansing, opening and empowering postures. A surefire way to light up your life.