Ronda Guimond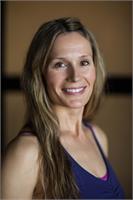 I started practicing yoga on a regular basis in 2009 when Plymouth Yoga Room first opened. The teachers immediately captured me. I also had an indescribable sense of vulnerability that I could not explain nor was something I particularly embraced at that time. I was focused primarily on the physical benefits of yoga and how it challenged by body. But after a severe humeral fracture resulting in hand surgery and restricted movements often taken for granted, I realized my physical body is not what makes me strong. It is finding patience and choosing how to react to challenges. Yoga elicits both of these personal disciplines. Completing PYR's Immersion Program in 2015 deepened my practice and created in me a particularly fondness for meditation. Yoga has taught me to be more present, to be in this moment, and that each day is a choice. I am grateful to guide you in the beautiful practice of yoga and learn how it has influenced your journey. Namaste, Ronda
Ronda Guimond instructs the following:
A fluid movement from posture to posture challenging you to connect your mind and body though your breath then use this to sooth tightness and release tension in longer holding "yin" postures. Creating an energized yet relaxed and refreshed body, mind and spirit.




Vinyasa for those wanting to experience a physically slower paced class. Yoga Flow will focus on working at a methodical pace. We will be holding postures, focusing on our breath, and at the same time creating a supple and toned body. Great place for beginners




Guided Vinyasa - cultivate a powerful & healing breath to lead you through an invigorating flow of cleansing, opening and empowering postures. A surefire way to light up your life.




Our signature yoga flow class without the heat.




Shortened version of the Primary series. A specific flow of postures to build internal heat, burn toxins, improve health and flexibility. Great for beginners and advanced students alike.




A dynamic series of sequenced postures that flow together designed to build great internal heat in order to purify the body with physically demanding postures done at the measure of your own breath.




Yoga Flow is designed to develop and increase your breath and focus, use this to create just the right amount of heat and then allow the heat to release any tension from you in perfectly selected yin style poses.