Jen Brown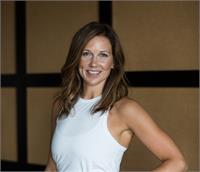 My yoga journey began as a compliment to being a collegiate volleyball player. I quickly found the benefits of being on my mat after strength and conditioning sessions, running and playing/practicing six days a week. As my life progressed and I eventually became a mom of two boys, I started my home practice. Still craving more, I decided to become a certified RYT in 2013. Since then, yoga has become an integral part of my life – bringing awareness and balance to my life. I specifically love yoga because there is no end sight, everything is perceived as moving in a direction. I encourage you to embrace the ebb and flow of life and be a source of lightness for yourself and those around you. Namaste, Jen.
Jen Brown instructs the following:
Vinyasa for those wanting to experience a physically slower paced class. Yoga Flow will focus on working at a methodical pace. We will be holding postures, focusing on our breath, and at the same time creating a supple and toned body. Great place for beginners




A dynamic series of sequenced postures that flow together designed to build great internal heat in order to purify the body with physically demanding postures done at the measure of your own breath.